Mansooruddin Faridi
"Bhagavad Gita is not only for Hindus, everyone can benefit from this holy book. It speaks of humanity. Like the Holy Qur'an, it also shows the way of living and etiquette." This coming from Hiba Fatima, a student of the Nizamabad district of Telangana, who translated the Bhagavad Gita from Sanskrit into Urdu are significant.
Speaking to Mansooruddin Faridi, Editor, Awaz-the Voice, Urdu, about her experience, Hiba Fatima said that when she started translating the ancient Hindu scripture, she had no idea that this holy book is a lesson for humanity. "This is the beauty of India. We have been the pioneers of religious tolerance and that is and will always be India's strength." The young student, who by faith is a Muslim, said. She firmly believes that if one follows the holy books of one's religion in spirit and live accordingly, all problems of life can get solved.
Hiba Fatima says that we should consider the idea of the unity of all religions to create a spirit of mutual respect among all Indians. Here are excerpts from Hiba Fatima's conversation with Awaz-the Voice:
How did you get the idea or inspiration to translate the Bhagavad Gita; what was its purpose?
I belong to a middle-class family; I have spent my life in a rented house. Therefore, every time I shifted to a new house, there were new neighbours – sometimes Hindus and sometimes Muslims. When I met my Hindu neighbors, I saw them worship their deities. This made me curious and I asked questions about Hinduism. However, I never got a satisfactory response to my questions. Everyone spoke differently to me. I believe they did so because they didn't have the knowledge and information or maybe with their limited knowledge they could tell me only that much.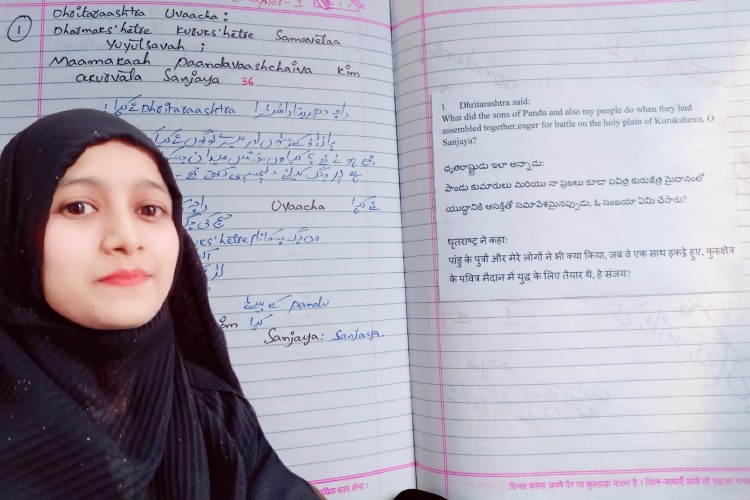 I was anxious; I wondered what could be the source of the genuine and hundred percent correct information about a particular religion. I also inquired from many people and then concluded that I should study Hinduism. The important thing is that my family supported me in this. Nobody's reaction was negative. After this, I studied the Bhagavad Gita in detail, then the translation happened.
What was your experience of translating the Bhagavad Gita and what difficulties did you face?
Let me tell you that even procuring a copy of the Bhagwat Gita was not easy. My father ordered two copies of the holy book with great difficulty, one in Hindi and one in Telugu while I was a student of Urdu medium and I didn't know both these languages. I downloaded English Bhagavad Gita from the internet on my mobile. By translating word by word and sentence by sentence, I prepared a Bhagavad Gita so that I could read it comfortably. When I translated it, I started studying it. As I read it my interest increased because I was reading this book to know the reality of Hinduism but then I realized that this book is not only for Hindus but for humanity. It's for everyone. There is no mention of Hindus or Muslims in this book; it is about human beings, humanity.
You have read the Quran and now translated the Bhagavad Gita. What similarities do you see in both religions?
Yes! Of course, the main similarity is that both holy books teach us humanity. For example, in Islam, it is said that if there is a stone or obstacle in your path, remove it so that it does not cause hardship to anyone else. This is also mentioned in the Gita. The book doesn't say to remove it only when it's blocking one's way to reach the mosque or the temple.
I am telling you that the Holy Quran teaches humanity and if we follow even one verse of it, it changes our life. Not only that, if we talk in the light of the Qur'an, one cannot become a good Muslim without being good to non-Muslims.
The second major similarity is that both holy books have emphasized the oneness of the divine – Allah, Bhagwan, or Ishwar. He is the same. Rather, you people are seeing the Creator of the world in different ways according to your own beliefs. The unity of both religions is a big topic. I want to write about it so that the world knows more about it and learns and understands this phenomenon.
Do you believe that if everyone reads, understands, and practices their holy book, then there can be a big change in the current situation?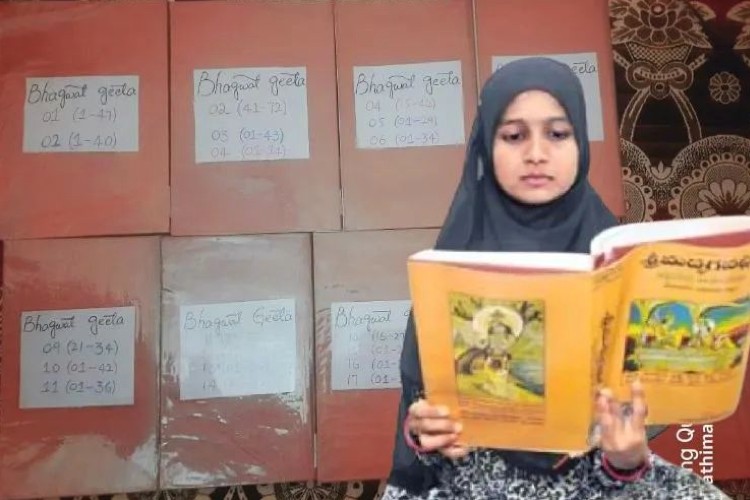 Look! I have understood one thing the holy books are not for any sect; they give the message of humanity to the world. Now if Muslims think that Quran is only their book it's wrong. The same is the case with the Bhagavad Gita. Muslims can read Bhagwat Gita and Hindus can read Quran. But if a Muslim and a Hindu do not want to read each other's holy book, then at least read their holy book. If you understand and follow it, the difficulties that society is facing will be eliminated or reduced.
How was your experience?
This experience was very good; a person who works hard gets a reward in the form of accomplishment. Where I read and understood the Bhagavad Gita, I also learned Sanskrit. When I started translation, I would only work on one verse a day. But as the work progressed, my speed increased. When I finished this work, on the last day I had translated 25 verses. I became so good at the Sanskrit language that I was found using it even while arguing with my sisters.
I gained a lot of knowledge about Hindu Dharma, now I understand every message of the Bhagavad Gita. I think there is a lot of work to be done on this topic. One can talk about the uniformity of religions.
Did you seek help in translating Bhagwad Gita? Did you get your final manuscript checked by a linguist or religious expert for errors?
Yes! It was a very big and delicate task too. I was worried about doing it the right way. I was thinking that may Allah forbid, if I make mistakes, it would be noticed. I knew that Sajid Siddiqui Sahib who lives in Pune had translated Bhagwad Gita in the past. When I started my mission, I had no idea that someone has already done the translation of Bhagwad Gita into Urdu. I later ordered the Urdu Bhagwat Gita by Sajid Siddiqui and cross-checked my translation with it. I realized that my translation was accurate. However, as it was a sensitive issue, my father took me to one of his friends, who is a Panditji (Hindu Priest). he spent a lot of time checking it and gave it a thumbs up. He was very happy and congratulated me.
What was the response of people – Hindus and Muslims – to your Book?
Interestingly, the more educated people were, the more positive their response was, and the less educated had a different opinion. That makes me conclude that knowledge is very important for the unity of humans. Especially Ulama Ikram (Muslim clergy) appreciated it and encouraged me a lot. Akbar Siddiqui of our town appreciated me and said that if I face any problem, I should approach him. He told me I should remember him as a brother and freely approach him in any situation. He reached so positively because people like him have the knowledge. Similarly, Hindu organizations from Maharashtra, Telangana, and Karnataka to Tamil Nadu contacted me and invited me to various programs. People generally appreciated my effort.
The negative effect is that when I was looking for a house for rent, Hindus didn't want me as a tenant because I was a Muslim, and Muslims were not willing to do it because of my views.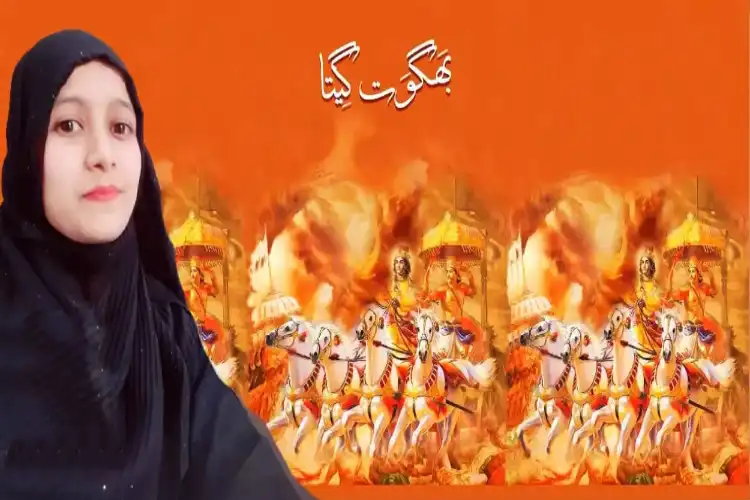 In the current situation of the country, is it not necessary for the new generation to strengthen the Ganga-Jamuni civilization and strengthen the tradition of religious tolerance?
Look! We are all one; be it, Allah or Parameshwar, He made us human. He did not make any difference while creating us. He didn't distinguish between one human and the other. We have to move forward with this thought. When we fought together in the war of independence, we were successful. Likewise, if we suffer from differences, we will become weak.
Be it, Mahatma Gandhi or Maulana Azad, they all made great sacrifices. Neither said that his sacrifice was for Hindus or Muslims. Their struggle and sacrifice were for the country, in which there were Hindus, Muslims, Sikhs, and Christians. . I believe that these sacrifices should not go in vain, we should always keep these in our mind.
I believe that in the current situation prevailing in the country, there is no need for an enemy to hurt us. We, Indians, are enough for this task. Our land should always remain a place where people of different religions live with complete freedom and equality. Let us respect each other's religions and give priority to humanity.
What is your plan for the future? Do you plan to publish more editions of the Bhagwad Gita?
Yes, I am happy, everyone has appreciated my work. I never intended to turn my book into a business venture. I translated to learn and add to my knowledge. The knowledge I gained through translation is an asset to me. I am trying to get people to think about religious tolerance and increase their threshold of tolerance for other's religions. You can say I am working on the unity of Islam and Hinduism.
I read and translated the Bhagavad Gita and during the process, I concluded that this book is not for one religion but everyone can benefit from it. You can read any book for the lesson of humanity. Now I am studying Guru Granth Sahib to prepare for translating it. This is taking time because of my studies. Of course, my next goal is to present the unity of the Quran, Gita, and Granth Sahib to the world.
How will you try to promote your views and thoughts?
Yes! Of course, I have created my YouTube channel by the name of Message for All by Hiba Fatima. I try to give messages that highlight the unity of religions. I want to give a new color to this series, I am trying to reach people in a new way. That's why I want to start a class, whether offline or online, in which children of every religion can come to learn. We will read the holy books – Quran, Gita or Guru Granth Sahib. Insha Allah (God willing)
Source: Awaz The Voice