Tripti Nath/New Delhi
Fifty-year-old Shama Hussain, a household cook in South Delhi houses has come a long way. As a practicing Muslim, she prays five times a day. She has never been discriminated against on religious grounds by any of her Hindu employers, whose support was so crucial in helping her with her obligations.
Shama wears spectacles and has a neat appearance with oiled hair pulled back in a bun. Narrating her backstory, Shama says she was married at the age of 14 years. Living in the backward Rani Talab village in Asansol, West Bengal, she prayed that she gets a chance to work outside.
Her family circumstances were not good but she was determined to give her children a better life. At last, the prayers were heard and she got a chance in the year 2003 to relocate to Delhi. The migration changed her life. First, t was her son who came to Delhi. He was joined by his father, who got a job in a factory.
Looking back at her journey, Shama, now a mother of five children, says that starting life in Delhi was a fresh struggle. "My face was fully covered with the 'pallu' of my sari. I had been taught to walk without raising my head. For a fortnight, I kept looking for a job but people would dismiss me as a 'gawaar' (illiterate). They would say that I didn't even know how to talk so how could I work for them."
She despaired until her luck changed in 2003 when a South Delhi family asked her to do household work in their flat in Alaknanada. There was no looking back. Over the years, Shama has worked for many households in the south Delhi areas. A majority of them were Hindu households.
Shama studied in Asansol till Class X in Urdu medium. "After school, I also attended Madrasa. My father worked in a steel factory and my grandfather was a foreman and manager,'' she says.
In the village, her life was confined to giving birth to children, raising them, and looking after her husband and poultry and goats. Her illiterate husband made a living by selling fish. His income was not enough to support the family. Then she heard about job prospects in Delhi that could change her life and came to the city.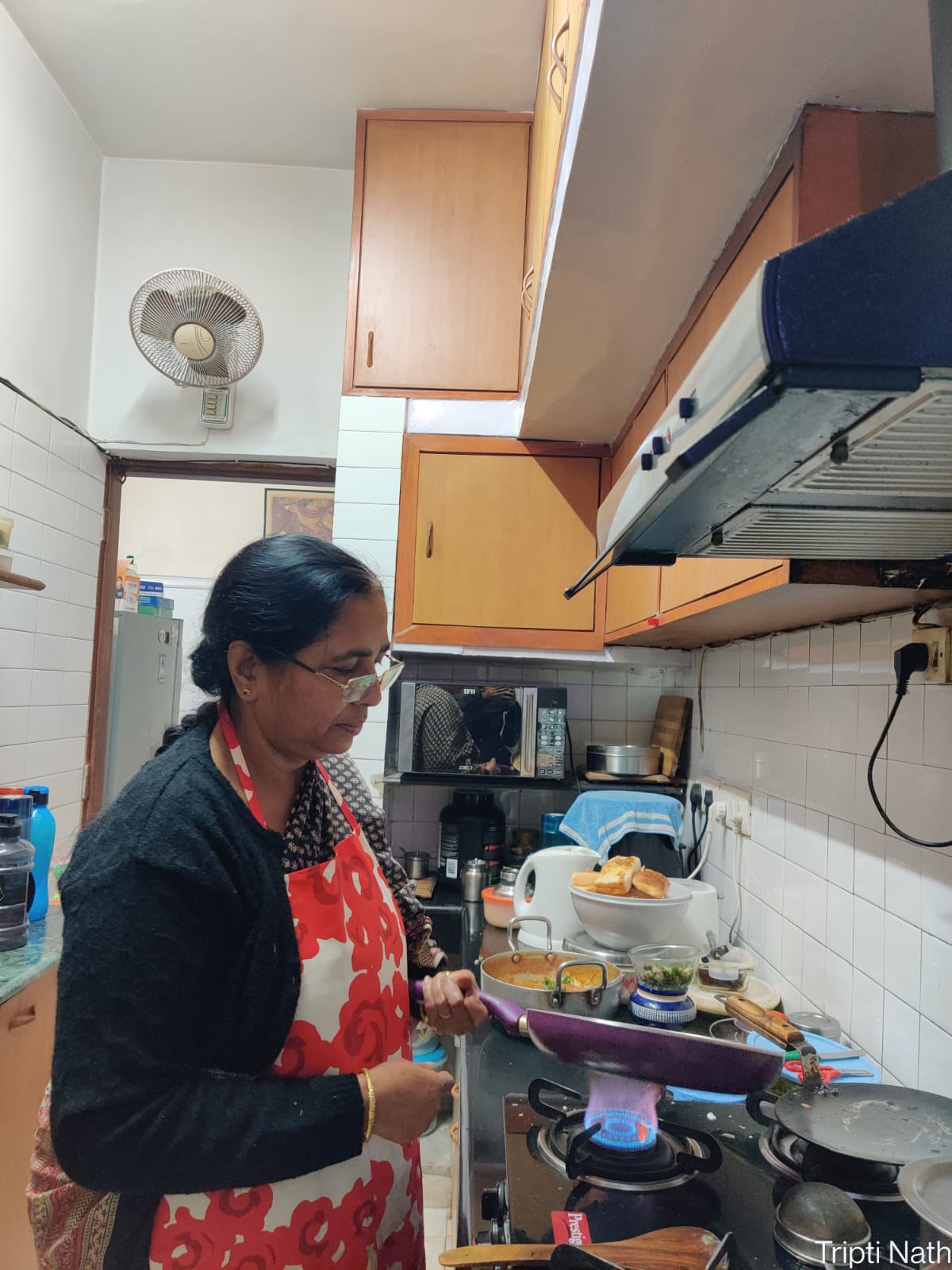 Shama began working as a domestic helper doing work like mopping, sweeping, and dishwashing and decided to learn to cook a range of dishes. Shama doesn't believe in wasting time, the moment she reports to work she keeps her shawl aside, ties an apron, and gets down to work.
She is much sought after; as she is a quick learner and can cook a range of dishes. "I can cook Punjabi, Kashmiri, South Indian, Chinese, and Italian dishes. I know how to make all kinds of parathas, Pasta, Pizza, Idli, Dosa, Sambar, noodles, Manchurian, and Dum Aloo, among many other dishes," she says.
She also takes orders for making biryani for parties. To ensure that her recipes are perfect, she often refers to YouTube. During the lockdown, some of her employers would also ask her to leave a tiffin of home-cooked food at the entrance.
Name a dish- Pao Bhaji to Pasta – she can make it with clockwork precision. She knows all the vegetables that go with Pasta- bell pepper, broccoli, zucchini, and olives.
Kartik, a young management student, and his brother Kabir are happy with Shama's cooking. He says, "After we lost our mother in 2019, we have not had proper home food. We are happy with her cooking. '' Shama has won their confidence in three days. The brothers treat her as a family member.
Her talent and support of people like Kartik and Kabir helped Shama in educating her children. Now she has grandchildren too. While her firstborn, Sadiq has a factory, her daughters are working, and the youngest, Rehana, works in a television channel and speaks fluent English.
Shama holds her head high and leads a life of dignity.
While Sadiq studied only till Class V, her daughter Shabnam studied till Class VIII. Her other daughter Sultana studied till Class X and later did a nursing course.
Shabnam lost her husband, and Sultana is married and lives in Mumbai. Shama is proud of her children. She says that Shabnam works in a hospital. Among all the children, Rehana is the only one who completed her post-graduation and is working in a media company.
Shama lives in rented premises in Tughlakabad with her husband and Rehana. She commutes half an hour to cook meals in four apartments in Alaknanda. For working 10 hours a day from 8.30 a.m. to 6.30 p.m. Shama earns Rs 20,000 per month. She is content.
People like Kabir and Kartik employ Muslim women as domestic help and Shama with her dignity of labour working hard are setting new interfaith equations in urban India.
Source: Awaz The Voice