New Delhi
In Urdu, Omar Farhat and Kausar Siddiqui (poetry) and in Punjabi, Khalid Hussain (Fiction) have been awarded the country's prestigious Sahitya Academy Award for the year 2021, announced Thursday night. The executive boards of the Sahitya Akademi announced the annual Sahitya Akademi Awards 2021 with the prestigious annual Yuva Praskar and Bal Sahitya Praskar 2021. The Sahitya Akademi Youth Award 2021 and Bal Sahitya Award for Poetry, Novel, and Short Stories in 22-languages were also announced.
Omar Farhat has received an award in Urdu poetry for his Kalam Zameen Zaad (poetry).
This time 22 people have received Sahitya Academy's Bal Sahitya Award 2021 for Children's Literature. Among them, Kausar Siddiqui has won the award for Urdu for his book Chiragh Phoolon Ke (Poetry).
The awards are finalized based on a unanimous or majority vote of the jury. According to the board, an engraved copper plate, shawl and a sum of Rs. One lakh as prize money will be presented to the winners at a special ceremony later.
Sahitya Academy Awards 2021 have been conferred on Seven books of poetry, two novels, five books of short stories, two plays, one biography, autobiography, criticism, and epic poetry.
The awards for Gujarati, Maithili, Manipuri, and Urdu languages ​​will be announced later.
'It's never too late to be honoured.' This is what the 77-year-old Khalid Hussain believes. The news came late, of course, but he gladly accepted it. "I've been writing for the last 50 years and my stories are widely read. It has been read and translated but this recognition, even if it takes a long time, is a source of happiness for me," he said.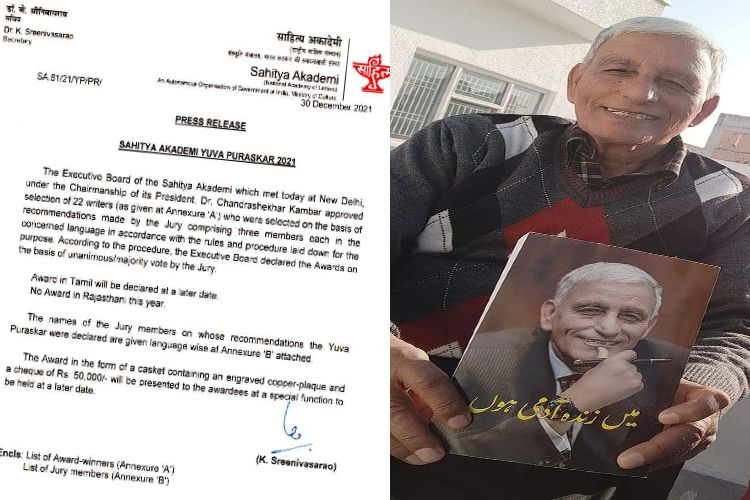 He has been given this award for his collection of fiction Salan da Salan, the title of which is taken from the Sufi poet Shah Hussain's Kafi. That Hussein is a rare writer who can easily travel from realism to abstract. His understanding of undivided Punjab before partition is unparalleled.
Leading Punjabi short story writer Gurmeet Krialvi says that it is encouraging that the Punjabi writing of Jammu and Kashmir has been recognized by Sahitya Academy. Hussain is portraying the problems of the people of Jammu and Kashmir in Punjabi with great precision.
Hussain has endured the ordeal of sectarian politics on his own body and soul. Born in 1944 in Ramnagar, a Dogri-speaking area of ​​Udhampur.
He had fled with his mother and father's sister in a sectarian massacre. Seven male members of the family, including his grandfather, father, uncle, and two elder brothers, were killed in the massacre. For the next seven years, he lived in a refugee camp where his mother worked as a seamstress like many other women.
Asked why he chose to write in Punjabi and not in Dogri, Hussain said, I took the language from my surroundings although later I also wrote in Urdu.
Author of six collections of short stories, in addition to his biography, a satisfying moment came to him when the famous poet Ali Sardar Jafari translated his story Bede di Lanka into Urdu on the theme of partition and It was published by the Urdu magazine Gotta.
Well-known author Khushwant Singh read it, translated it into English and it was published in the famous magazine The Illustrated Weekly of India.
Apart from retiring as an officer of the Secretary rank, he continued to use his pen for literary expressions. He also writes in Urdu. His works are popular in India and Pakistan.
Source: Awaz The Voice