New Delhi
Those indulging in the loose talks about Islamic schools – madrassa – being factories for the production of terrorists and fundamentalists must meet Ram Khiladi, Principal, Jamia Rashidiya, a madrasa of Loni in the industrial city of Ghaziabad, Uttar Pradesh. A Hindu by faith, Khiladi has been leading the institution for 15 years.
Have you visited a madrasa and spent time with students? Is there any research to support your rants or your perception is based on mere hearsay?
These are stock questions that Ram Khiladi puts to silence the loose talkers.
He says: "there is nothing wrong in studying and teaching in a madrassa. I am an example of this. We give the same education in a madrasa as is given in other schools. Our children wear niqab here, we recite Kalma for prayer. Like every school we have rules."
Madrasa Jamia Rashidia was established in the year 1999 with 59 students, mostly from economically poor Muslim families. A visit to the area will reflect abject poverty.
Ram Khiladi is the Principal to some 800 students and 22 teachers. As a teacher, he takes classes in the Hindi language.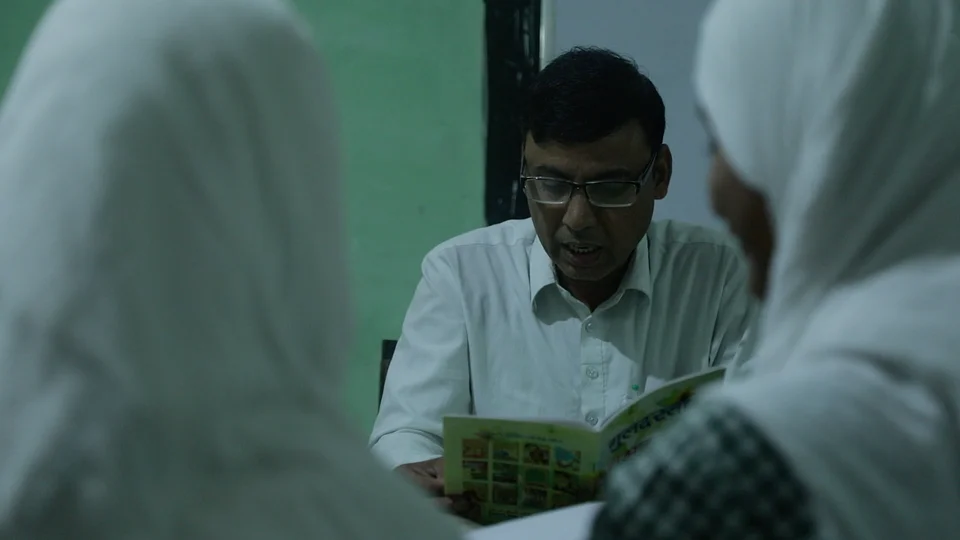 He says that before coming here, he has worked in many schools for ten years and it's here that he found an environment congenial for teaching and has never felt like leaving for a new job. The students call him "Pandit Principal Sir."
Imam Nawab Ali, head of the madrassa, says earlier, that the parents were reluctant to send their children to the Madrasa. "Now our classes are full. We are struggling to make room for fresh students."
Ram Khiladi says he never felt religion was a hindrance to his work while he mingles with the students and the staff. "We all are like a family."
Ram Khiladi believes that it is important to focus on education to empower Indians. To all those speaking ill of madrasas, he has some advice: "Education tells us the difference between right and wrong. What we hear can be a lie, and what we see can also be a lie. Checking is the right way.
Besides Quran, languages ​​like Hindi and English and science subjects are also taught in the madrassa.
He explains that the introduction of subjects such as mathematics, social studies, and science under the Madrasa Modernization Scheme launched in 1994 by the then Prime Minister PV Narasimha Rao-led central government has helped the students prepare for competitive entrance examinations and jobs.
The entrance of the school has a poster with pictures of the toppers of the year 2019 – all girls in it. Ram Khiladi and other teachers of the school proudly talk about the students who are preparing for the UPSC Civil Services Examination.
Some students coming out from here have joined the police service. Many have become doctors. A student is the manager of a local hospital.
For Muslim children from poor backgrounds, private schools are out of reach. Madrasas are often the only source of education. Like in other places, students here too have dreams, including some wanting to join the army.
However, to say that all is well here will be an exaggeration. It seems Ram Khiladi and other teachers appointed under the madrassa modernization scheme have not received a salary for the last five years. They get a remuneration of Rs 3,000 pending the payment of their promised salary. Khiladi, a widower, lives with his two children – both have studied from this madrasa till class VII. He admits it is difficult to survive on such a low salary. "Sometimes it becomes difficult to meet even the basic needs," he says
Despite this, Ram Khiladi's financial woes, he is always present in the school and has a smile on his face. He says: "Wherever I go in Loni, people show a lot of respect to me. Children take me to their homes."
Despite his financial problems, Ram Khiladi can be seen present in the school every day with a smile on his face. He says, "Wherever I go in Lone people give me a lot of respect. Children even invite me to their homes."
Source: Awaz The Voice