New Delhi: From Ukraine, heartwarming stories of bonding between the Indians and Pakistanis stuck in a war zone, are generating positive vibes between the two countries.
Last week, an Indian student Ankit Yadav's story of how he helped a Pakistani girl stuck in a bunker with many Ukrainians in Kyiv escape and reach the border of Romania safely from where she was picked by the Pakistani embassy.
On Tuesday, a Pakistani student Asma Shafique thanked the Indian embassy in Ukraine and Prime Minister Narendra Modi for evacuating her. She was rescued by Indian diplomats and is en route to Western Ukraine for further evacuation out of the country.
The video of Asma speaking about her experience was shared by media on Twitter:
Pakistani student Asma Shafique thanks Indian embassy in Ukraine and Prime Minister Narendra Modi for evacuating her. She was rescued by Indian diplomats and is enroute to Western Ukraine for further evacuation out of the country. 🇮🇳🇮🇳 pic.twitter.com/wMsrD6QCbz

— Aditya Raj Kaul (@AdityaRajKaul) March 9, 2022
However, the most heartening story comes from Ternopil, where a Pakistani transporter Moazam Khan rescued 2500 Indian students in the buses and cars to the safer location on Ukraine's border with Hungary, Poland, Slovakia, or Romania.
According to a report in Rediff.com. Moazam arranged safe passage for the Indians without charging them extra and in some cases not even asking for the fare since he knew most of them have run out of money.
"Moazam was like a god-send for our team. He was very helpful and many times did not charge even a single dollar for the Indian students who had no money to pay," Nitesh, an Indian official told the news service.
Moazam who has been living in Ukraine for 11 years and runs a transport service in Ternopil, says, "When I saved the first batch of Indian students, I had no idea the crisis was so huge." He soon discovered his mobile was flooded with SOS messages from the Indians as it had been shared on many WhatsApp groups.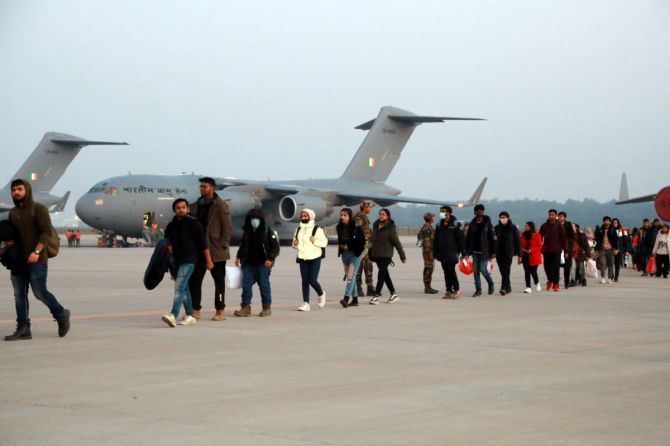 He hails from the Tarbela cantonment area close to Islamabad and has studied engineering from Ukraine. He is married to a local woman.
"I have been friends with many Indians even before the Russia-Ukraine war started," he says. "In these 11 years, I have made many friends at Ternopil National Medical University. Many of them have passed out and are back in India. They are still in touch with me and we are good friends."
The main reason for Indians and Pakistanis to become instant friends in Ukraine is the common language and food habits. Both of them find communication problems with locals who mostly speak Ukrainian and Russian and there are very few English speakers.
About his mission to evacuate the Indians Moazam says, "I had no time to count. The only thing top-most in my mind was evacuation. If buses were not available, I used to arrange for private cars or taxis."
He says it was a mere providence that the Russians never bombed the areas where he drove.
He said although the Ukrainian operators had raised the fares ten times, he Charged them only $20 to $25. "I knew the students had no money. In many cases, I didn't take money because they had run out of cash before coming from Kyiv to Ternopil."
He considers a spate of blessings the parents of the students send him on his mobile as his biggest high.
Recalling his experiences he says one Indian student in Keiv was suffering from life-threatening hypothermia when his SOS call came. He called the Red Cross and made arrangements for his medicines. Only after his health improved and he reached Ternopil four days later, Mpoazam evacuated him to the border from where the Indian embassy took him to India.
Moazam says, "We as humans want the human touch all the time, that gives us love and affection. I always hugged my Indian students who left Ukraine. Hugging each other works big time in such situations. Please do that to other human beings who are in distress in the war-like situation," he says.
Source: Awaz The Voice