Rizwan Shafi Wani/Srinagar
Aaja mere badshah, eek wade ke liye… The lilting tune of the song of the Hindi movie Khuda Gawah was rendered by Lata Mangeshkar and filmed on Sridevi and Amitabh Bachchan in the decade of nineties in Kashmir. It's still popular among music lovers. The lyrics of Anand Bakhshi were strung into a beautiful melody with Rabab as the dominating instrument in the tune composed by the duo of Lakshmi Kant Pyare Lal.
Almost 20 years later, two Kashmiri artists have revived the song in public memory with their scintillating performance on Colors TV's talent show Hunar Baaz.
The Judges of the reality show film producer Karan Johar and actors Parineeti Chopra and Mithun Chakravarty almost went into a trance while enjoying the performance of Adnan Manzoor and Mohammad Iqbal, who hails from Kashmir.
The duo used traditional single-string musical instruments Rabab and Sarangi to play the tune of Khuda Gawah and got a standing ovation from the judges. Even the audience of the show rose in ecstasy as the two men played music to show their unique talent.
The video of their performance in the qualifying round has since gone viral on social media.
Appreciating their performance, Film director-producer Karan Johar said, "You took us to the (Kashmir) valley. I remember being with my father during the recording of this song and I had instantly fallen in love with the song.
Adnan Manzoor and Mohammad Iqbal said they want to keep the traditional musical instruments alive and also attract the younger generation to these.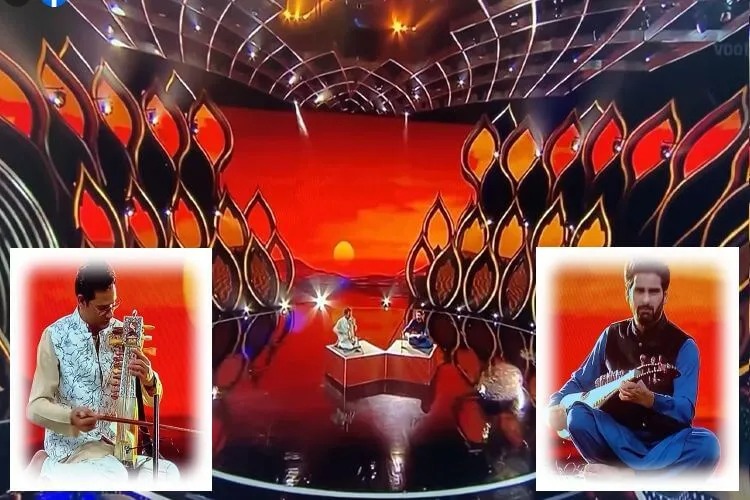 Adnan Manzoor said that through the reality show Hunar Baaz, he wanted to spread the music of Kashmir across India and the whole world.
He says though the string instruments are used by musicians in Kashmir but "we want this melody to resound in every big and small city of India."
"I uploaded a video called 'Bihar' on YouTube," Adnan told Awaz-the Voice. "The show's management contacted me after watching the video. There were 4 online auditions for this program. After qualifying for the online auditions, we were called to Mumbai to perform."
He said, "Everyone has a dream to reach their destination and I am very happy to have the opportunity to represent Kashmir at the national level."There are still a few rounds left for reaching the finals and I hope to qualify those too."
Adnan Manzoor hails from the Bemina area of ​​Srinagar city. He has performed in many live music concerts in different parts of the country including Delhi, Mumbai, Chandigarh. He has also worked with music director Himesh Reshammiya.
Adnan Manzoor had started playing rabab when he was 15-year-old. He is the youngest and most famous rabab artist in the valley.
"I have been interested in music and its instruments since I was a child," he says. At the age of 15, he started learning the guitar and became interested in traditional musical instruments. I searched for Rabab in Kashmir but did not find it. One day, I went to Irfan Sahib who is a singer and musician, and sought his guidance. He gave me one of the two Rababs that he had bought from Afghanistan.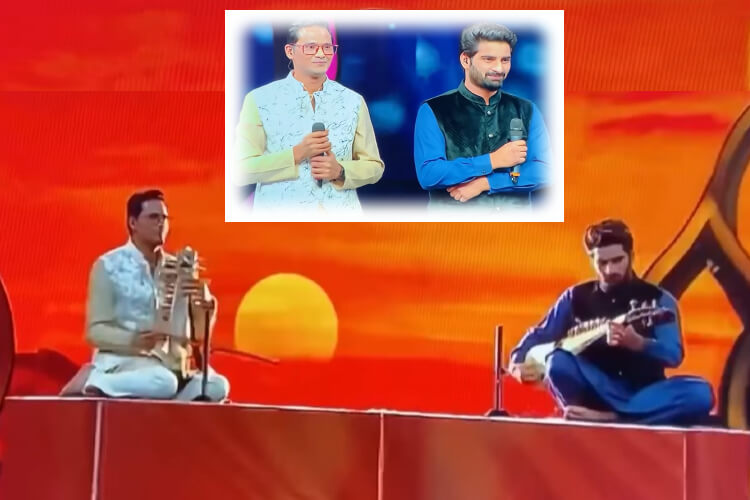 Adnan Manzoor is currently teaching Rabab online.
He says he had started uploading his music videos on social media and this received huge appreciation. "I received a lot of love and encouragement from the people. People would ask me to teach them to play Rabab. It made me confident. Many young people in the valley are interested in learning a string instrument." 
Adnan Manzoor had to go through difficulties in life. "We cannot achieve success without struggling," he said. "We live in a society where people do not appreciate the art of music as they do other professions."
He says choosing music as a profession was hard for him as he was confused by the opposition by his family and social pressures. "Choosing music as a student has never been easier for me," he said.
However, Adnan says the situation has changed in Kashmir in the last few years. Music is on the rise in the valley. People are interested in learning music.
Adnan Manzoor is trying to take the traditional music of the valley to the national level. He says that because of western music, people have forgotten traditional music. The responsibility to protect our cultural assets begins at home. Parents need to educate their children about cultural heritage. Playing the lute can keep our traditional music alive.
It should be noted that the rabab is an instrument of Afghan music. It is widely used by Sufi musicians in the Kashmir Valley.
Source: Awaz The Voice