Mukut Sarma/Guwahati
Beyond the walls of his classroom, lies a huge expanse of a field where Ismail Hossain, a teacher in one of the leading polytechnic institutes of the country, HRH Prince of Wales Institute of Engineering, Jorhat, leaves no stone unturned in his quest for knowledge on one of the greatest saint-reformers Srimanta Sankardeva and his teachings.
A prominent writer, researcher, and educationist, Ismail Hossain has also continued his efforts to build a bridge of unity and harmony between different castes and religions in the land of Sankar-Azan called Assam. Hossain has so far enriched the treasure of Assam's literature with a total of 106 books, which include 19 on Sankari (Neo-Vaisnavite) art and culture, 10 on Assamese Bihu, eight on folk literature and culture of Assam, two books apiece on Hindu-Muslim amity, Sufi saint Azan Peer and Saraniya Kacharis and one on Bodo-Mising-Chutia and Koch dynasty and another on drama and one-act plays.
Hossain, who is known in Assamese society as a researcher, scholar, and flag-bearer of unity and harmony, has opted not to keep his work on the great saint-reformer Srimanta Sankardeva's unique creation 'Ankiya Bhaona' (one-act play) confined to writing and speech, only but also raised a drama troupe called 'Chandasai' with Muslim artistes and stared acting himself. Similarly, he has been working on promoting Bihu among the minority community people by organizing competitions and Bihu workshops at Kayakuchi in his native Barpeta district every year on the first two days of the month of Baishak. Hossain trains Muslim people to sing and dance Bihu in its pure form at the event.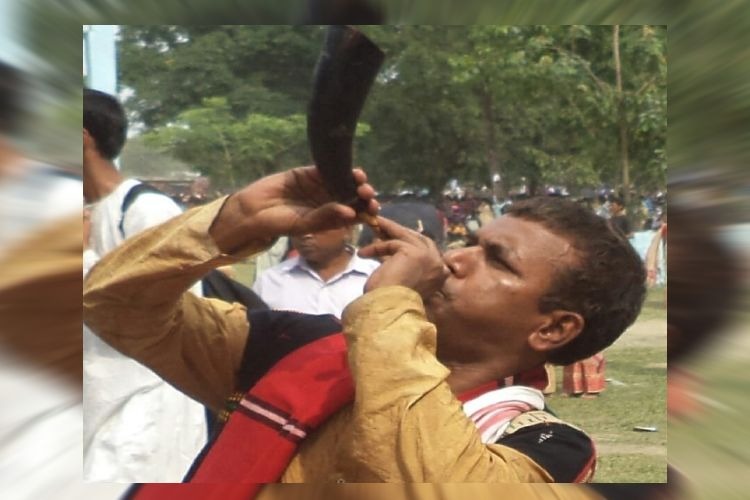 "I was born in Kayakuchi in Barpeta district," said Hossain, a prominent researcher in Shankari culture, during an interview with Awaz – The Voice. "Half a kilometer away from our village is Phulaguri village and another half kilometer ahead is Bamunbari village, both of which are villages of Sanatana faith believers. It was a tradition for the two villages to come together and organize raas festival every time. We used to go to see raas there during our childhood. We see the battle of Rama and Ravana there, the battle of Krishna and Kansa, the battle of Ramachandra and Parshurama there. We could always see Rama or Krishna triumph over the evil forces. I was always attracted to the stories of Ramachandra and Krishna from an early age. I felt they are symbols of our Indian civilization and culture," he said.
"Although we are from the Muslim community, we have never seen a drama about any story of Arabia in our society. Neither are those stories even linked to our society. But, the Krishna and Ramachandra in the 'Ankiya Bhaonas' which were penned by our Srimanta Sankardeva are closely associated with Indian culture and are connected with our society. Being brought up in such a society, we have become associated with the Indian culture, the Assamese culture from a tender age. The geographical location of our region planted the seeds of unity in my mind," Hossain said.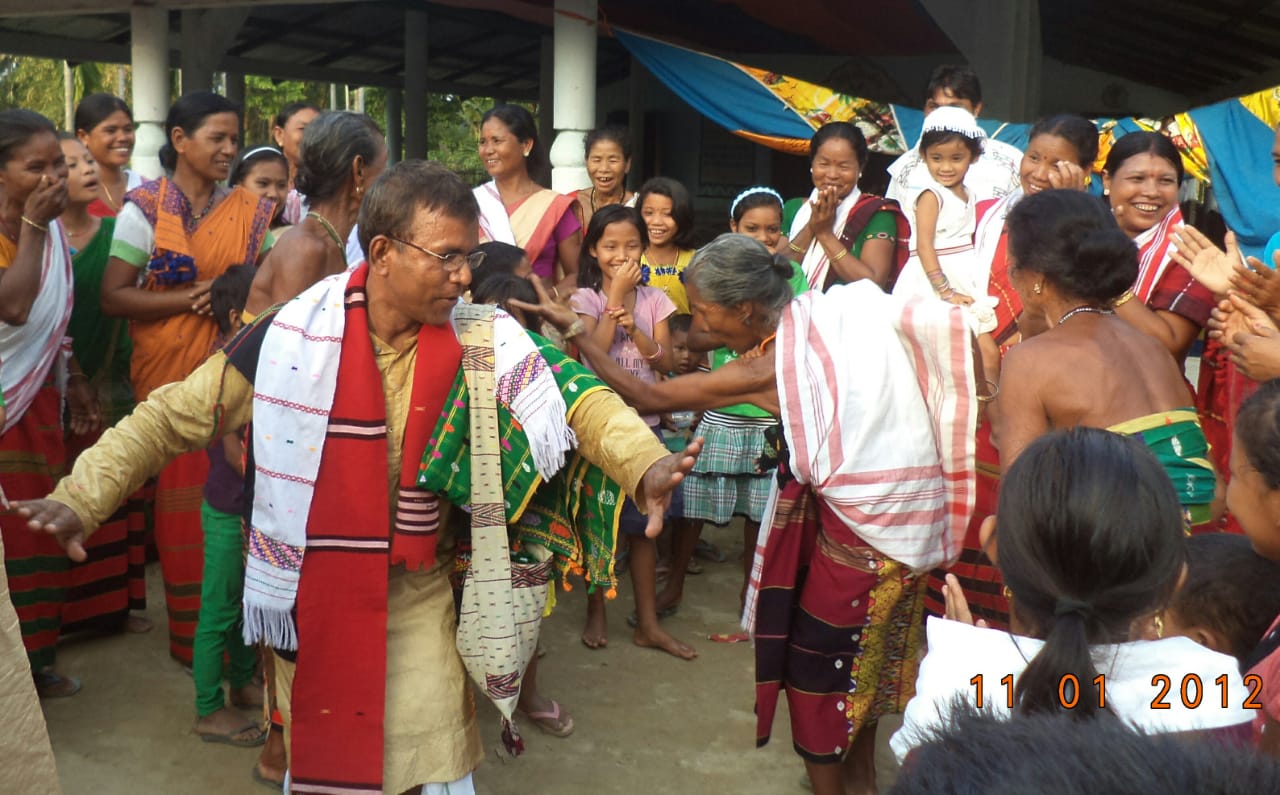 Hossain, who works for the harmonious growth of various ethnic groups in Assam with the ideals of Srimanta Sankardeva, Madhavdeva, Azan Peer, Chandasai, was born on February 22, 1965, to an economically backward farmer's family at Kayakuchi village in Barpeta district of western Assam. He is currently working as a lecturer at the HRH Prince of Wales Engineering Institute in Jorhat in eastern Assam.
The Chandasai Bhaona troupe, led by Ismail Hossain, has been able to sway the crowd with its shows in different parts of the state, including Majuli's Kamalabari Satra and Auniati Satra. Especially, the troupe's Ramvijay and Parijat Haran plays have been successful in drawing huge audiences. The members of the Chandhai Bhaona team are Ismail Hossain, Suraj Khan, Mozambique Hossain, Zakirul Islam, Ajgar Ahmed, Fazal Ali Ahmed, Saju Ahmed, Mushtaque Ahmed, Azimuddin Ahmed, etc.
"In 2007, I acted with the Baresaharia Bhaona at Madhabgaon in Jamugurihat," Hossain said. "There I played Krishna as well as King Satyabrata. I was embraced by 15 Satradhikars after seeing my acting and showered me with blessing and affection. There was such an atmosphere that people started looking for Ismail Hossain. There was an enthusiasm among the people that for the first time, a Muslim youth was acting as a character in a bhaona. I was asked to attend the open meeting held the next day. The crowd at the open meeting was as strong as the one at the bhaona. I spoke for about 10 minutes and it took me about an hour to get off the stage due to the audience's rush. They showered me with love and blessings. They became emotional.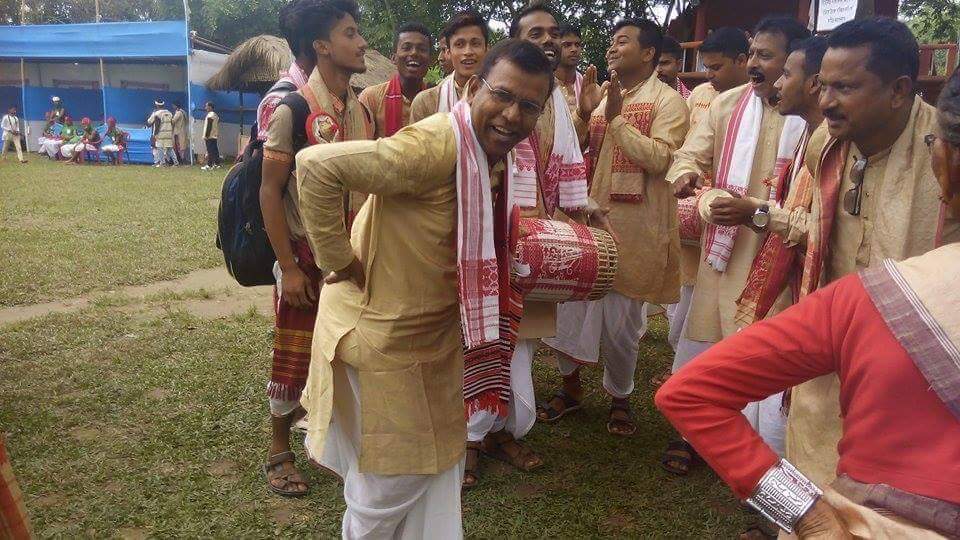 Overwhelmed by the love of the people, I went back to the stage and promised that I would be back with a troupe of all Muslim actors in the next Baresaharia Bhaona. They were delighted to hear my announcement. It was then that the Chandasai Bhaona troupe started. The troupe was named after Sankardeva's Muslim disciple Chandasai because it comprises Muslim actors."
Hossain, who has delivered over 300 speeches about rural Assam, Namghar, and Satra, Sankardeva-Madhavdev-Azan Peer, played a strong role in introducing Sankardeva, the great man of Assamese culture, to the world by delivering a powerful speech in London on 'Why shouldn't Sankardeva be the greatest in the world'.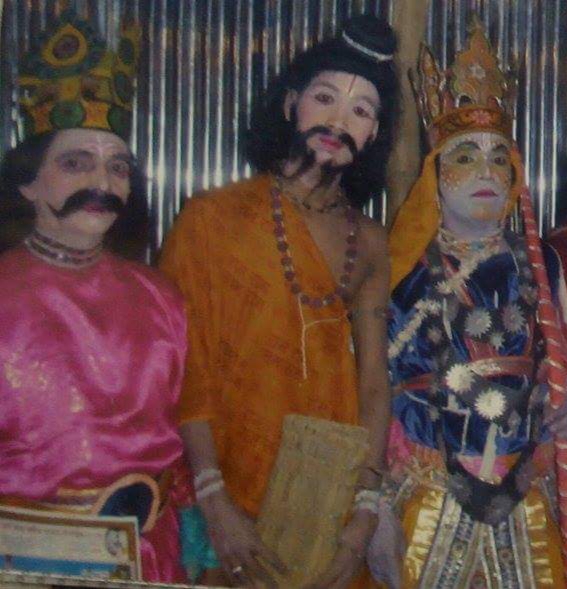 "On October 18, 2008, I delivered a lecture on Mahapurash Sankardeva in London," Hossain said. The branch of Asam Sahitya Sabha in London and some resident Indians, resident Assamese invited me as a guest on the occasion of Sankardeva's birth anniversary. Though I was supposed to speak for 30 minutes on Sankardeva's creations and contribution to various social reforms, I had to speak for 1:20 hours at the request of the audience. There were many dignitaries from different countries including Indians."
It may be recalled that the writer-critic, who is currently busy writing a research book on 'biyanam' (wedding songs), one of the most important elements of folk music in Assam, was able to create an anti-communal awakening in the society through poetry. Ismail Hossain's collection of poems titled Samprodayikota Birodhi Asomiya Kabita during the communal riots across the country over the demolition of the Babri Masjid received wide acclaim among the readers. His poem titled Advertising also created a stir in the literary world of Assam. The poem was written around casteism.
Source: Awaz The Voice