Nakul Shivani/ New Delhi
With sweat dripping down her face, Salbeena adjusts her hijab one last time. She takes a deep breath before lifting the bar with weights beyond her own body weight to perfection.
Under the watchful eyes of her coach, this 20-year-old Kashmiri girl Salbeena Aslam Shalla is doing what no one else in the valley has dared to do – break stereotypes to dream of representing the country in weightlifting.
"You often do things to prove a point. I too wanted to show the world, that I can pursue my passion without sacrificing my religious beliefs"
When Salbeena competes in championships, she is often the cynosure of all eyes. Afterall she is probably the only hijab-clad weightlifter in the entire country.
"The hijab is not the reason why people should follow me," she says. "I want people to know me, recognise me, honour me for my weightlifting."
Srinagar based Salbeena started her weightlifting journey not too long ago. An active martial art sportsperson in her junior school days, she moved to lifting weights during the pandemic induced lockdown.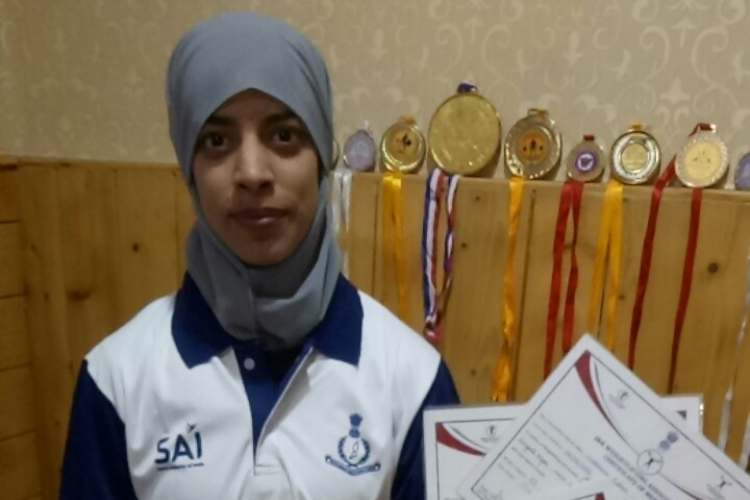 "I had given up playing sports due to medical reasons. For nine years after my class 6th, I did not go to any stadium. It was only studies."
But to keep her away from sports any longer was always going to be difficult.
"The lockdown was boring. I wanted an escape from the dreary life. I found support in sports," says Salbeena with a sense of relief in her voice.
"I hadn't done sports for nine years. After my successes in martial art sports, I was itching to get back to the stadium," she adds.
She started powerlifting. " It was fun and I was winning medals too."
But there was a problem. If she wanted to pursue sports then she will have to look for another sport, since, Powerlifting is not an olympic sport.
This was just a year back and Salbeena has since then been weightlifting with the dream of representing the country at the olympics.
When Salbeena started training she was the only girl in the gymnasium practicising weightlifting that too in a hijab.
"Thats never been a problem. People have understood my religious beliefs. Everyone I have met in my journey so far have been very supportive," she says.
Gradually, a couple of more girls joined. A big reason for more girls coming forward to take up sports in general is availability of good infrastructure. Earlier no girls could think of going out of the valley.
"There was no facility, parents were scared. But now things have changed in the last two to three years. Kashmir has world class infra. It has allowed us to dream big. Now even we can think of excelling at the national and international level, " she says.
Apart from the access to good training, a society sometimes needs role models. Mirabai Chanu is the epitome of success for girls like Salbeena. And Salbeena is a role model for her peers in the valley.
"I am a role model," she says with a hearty laugh.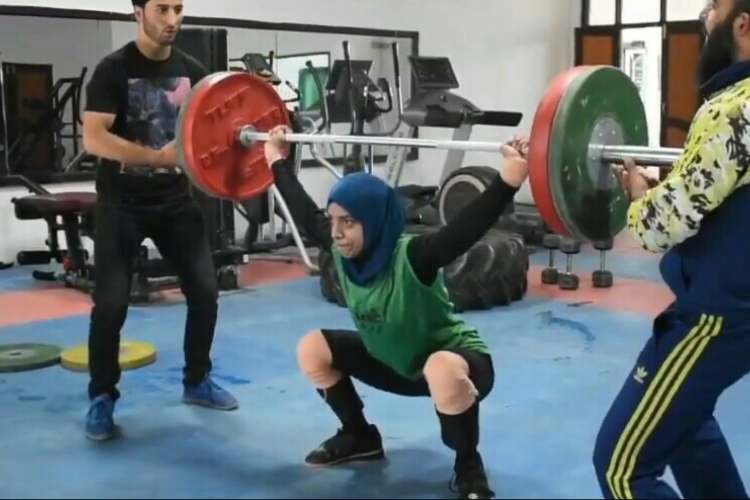 An arts student of Govt Degree College, Bemina, Salbeena currently undergoes her drills at the Gindun stadium in Srinagar.
But why a physically enduring sport like weightlifting?
"I find it attractive. It makes me physically and mentally stronger."
Like all sportspersons Salbeena too is dreaming big. "An olympian prefixed with my name will be great," she says. "I know it will have to be one step at a time. My immediate target is to qualify for the Nationals in December, " she says.
With that a strong possibility, she will then start preparing for her next bigger dreams.
"One should never stop dreaming. If you want to fly high, dream big, keep trying. Each attempt will bring your dream closer to you, " she says with a smile before attempting her next lift.
Source: Awaz The Voice