Ehsan Fazili/Srinagar
"This is an honour for every citizen and an opportunity for everyone to touch the national flag at a time when the country is celebrating 75 years of its Independence," said Dr Darakhshan Andrabi, the first woman Chairperson of the J&K Wakf Board, who is in charge of the campaign to distribute at least one lakh tricolours to the members of the public in central Kashmir.
The occasion holds greater significance for Jammu and Kashmir as the 75th anniversary of Independence coincides with the third anniversary of the Union Territory celebrating full integration with the rest of the country with the end of the Special status to the former State on August 5, 2019.
"This is a great thing in itself…..it is an honour to the flag as well as the citizens," Andrabi told Aawz-the voice at the end of her daily visit to areas for distribution of the national flags.
She said that people have been coming forward to purchase the tricolours out of their own money. Its minimum price has been kept at Rs 20, while people are ready to offer more and many of them spend more as a matter of honour for the flag. Some people are ready to offer Rs 1000 to 2000 to get it, which would also help more and more coverage under the campaign of "Har Ghar Tiranga."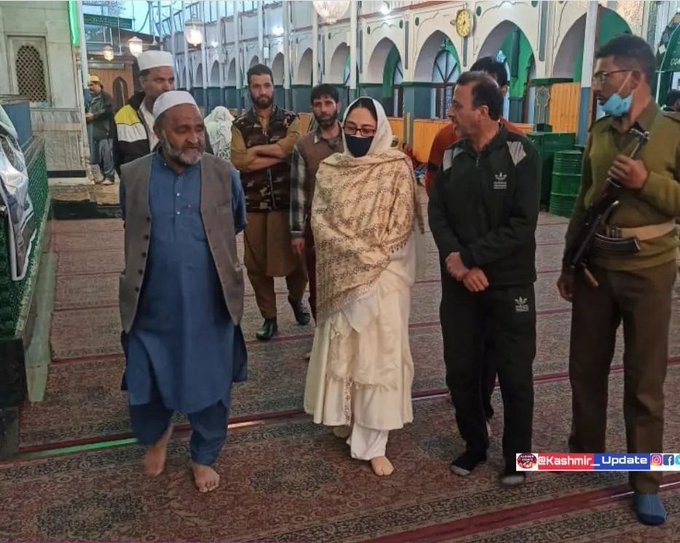 She asserted that in Kashmir the national flag would be seen hoisted only on the Civil Secretariat or other official buildings, but atop every house. The senior BJP leader has been nominated as in charge of the "Har Ghar Tiranga" campaign in central Kashmir comprising Srinagar, Budgam, and Ganderbal districts, where she launched it on August 1, two weeks ahead of the Independence Day celebrations.
Dr Andrabi had flagged off the BJP's first Tiranga rally in which 300 bikers took out a Srinagar to Drass rally to commemorate sacrifices of soldiers of the Kargil war.
Though the national flag would remain hoisted atop all the buildings and houses from August 13 to 15, preparations are already underway to ensure that every house gets the tricolor hoisted as per the Central Government's directions.
The BJP leadership and the Government, according to Dr Darakhshan Andrabi, have a target of one lakh tricolours in the three districts of Srinagar, Budgam, and Ganderbal.
After seeing the enthusiasm, Andrabi feels one to two lakh tricolours would be hoisted in the three central Kashmir districts.
"People are enthusiastic and we are sure that every household would be hoisting the flag not only in central Kashmir (of which she is in charge) but also in other parts of the valley", Dr Andrabi commented.
These flags are being distributed to the public at various levels including offices of the respective Deputy Commissioners and Post Offices.
Political leaders like Omar Abdullah of the National Conference have said nobody should have an objection to hoisting the national flag on and around Independence day.
Source: Awaz The Voice