Onika Maheshwari/New Delhi
"I dedicated my second life to specially-abled people; especially helping the wheel-chair bound cricketers make their careers. Nowadays they are the talk of the town; they are scoring runs and playing well," Ghazal Khan, CEO of Divyang Cricket Control Board of India (DCCBI), says.
Ghazal Khan, 28, from Agra, Uttar Pradesh, is the youngest woman in the world to be involved in the promotion of wheelchair cricket. She is also the Vice Chairperson of the International Council of Wheelchair Cricket and the Secretary of International Affairs of the International Cricket Council for the Physically Challenged.
Ghazal Khan narrated an incident from her childhood that changed the course of her life,
At the age of 21, Ghazal had a close shave with death. "On 22 December 2015 when I was preparing for the examination of the second semester of the MBA my blood pressure suddenly fell. I was riding a scooter when it happened. I fainted and fell off it. I opened my eyes after 9 days in the ICU of a hospital in Agra."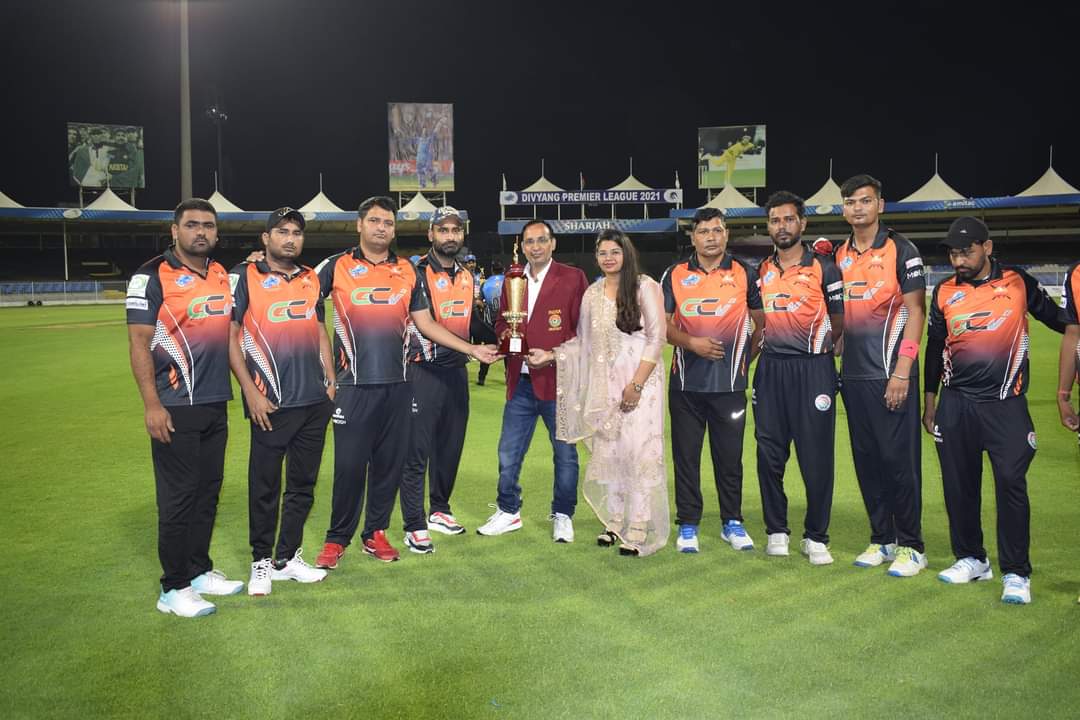 Ghazal Khan with the winning team after a tournament

Ghazal spent 20 days in the ICU. He was told that she was in critical condition and on a ventilator for 2 days. Doctors had declared her almost dead and given her only a 2% chance of survival.
"I was reborn on December 24 that year on my birthday. I had been in a coma for 9 days. My face was sewn up to close the injuries. I lost the beauty of my face. When I looked in the mirror, I couldn't recognize myself."
After this experience, Ghazal wondered why she survived even after doctors had given her a 2 percent chance.
"I asked myself, why did He (Allah) save me..? During this period, I received several calls from disabled cricketers from my father's association."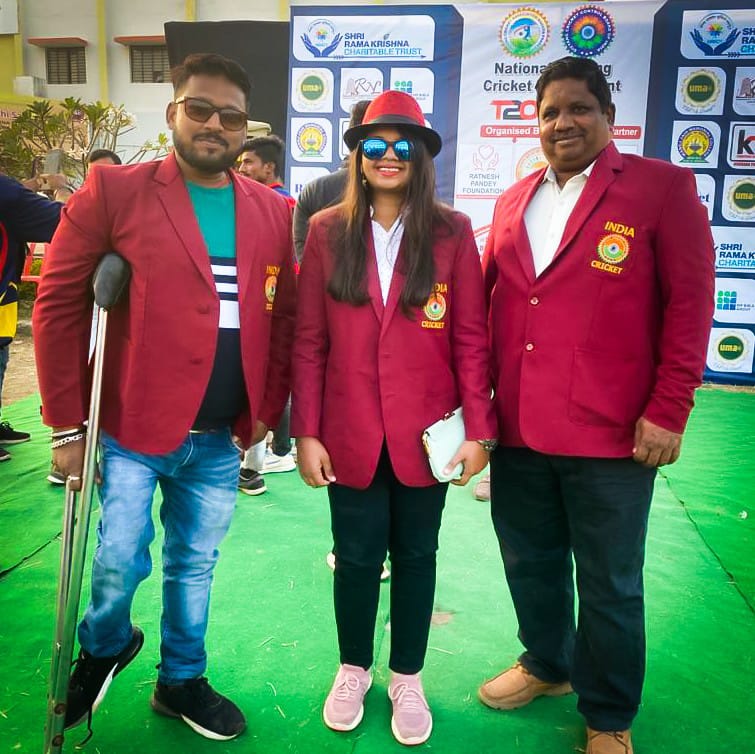 Ghazal Khan with her father Haroon Rashid (right) and another official

Ghazal's father Haroon Rashid was a famous pacer of the Indian team. He too met with a mishap and had to give up cricket on doctors' advice.
He founded the Divyang Cricket Control Board of India (DCCBI) to enable cricketers facing disabilities to pursue their interests. He is the general secretary of the Board and Ghazal the CEO.
Ghazal says, "I volunteered to help them during the first Asia Cup in 2015. It also helped me develop a good relationship with disabled cricketers.
"I realized that I had lost the beauty of my face, but they lost their body parts and yet they are very happy and thankful to the almighty. So, why should I be ashamed of my ugly face?
 "I realized that Allah has saved me for a reason; I decided to prepare for UPSC civil services examination and become an IFS officer.
"I was sure of cracking the examination on the first attempt. However, I day before my preliminary exam, I fought with my fiancé. Thereafter I became depressed and was diagnosed with severe clinical depression.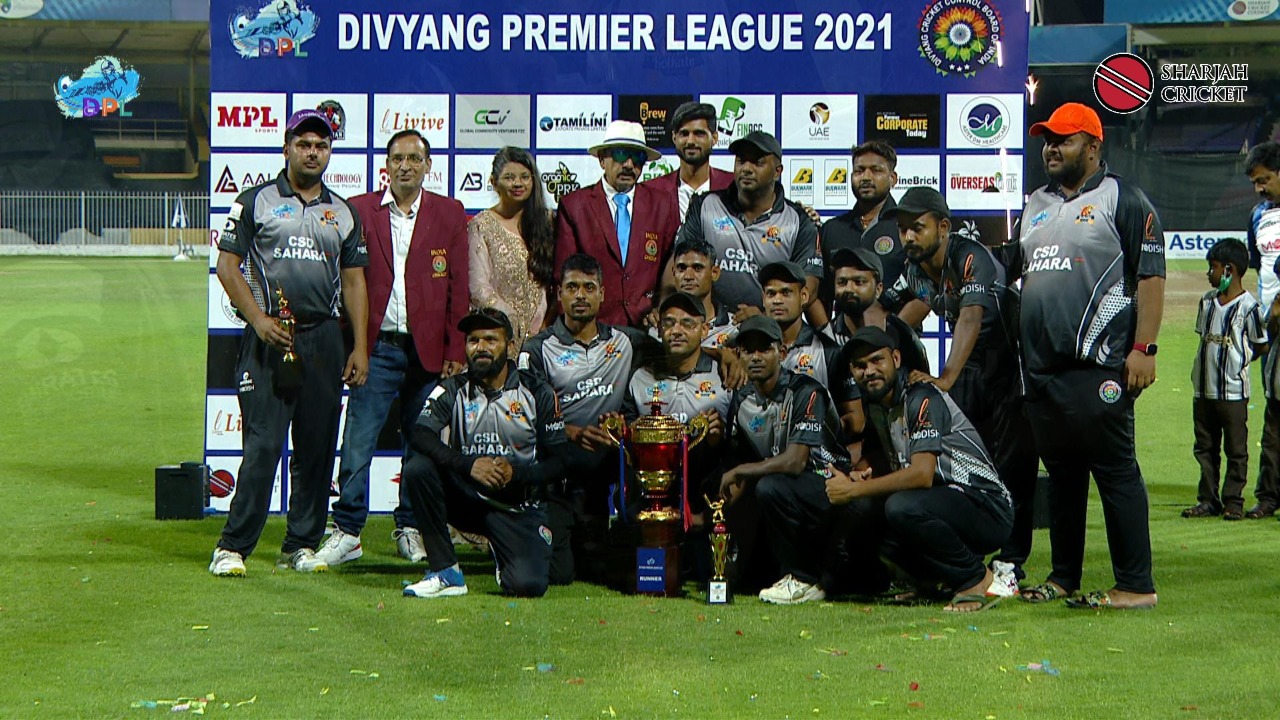 Ghazal Khan posing with officials and the winning team

"Suddenly I behaved like a child of 8-9 years'; had a loss of memory. Biologically, I was 23 but mentally I was 8 years old. I had lost all senses.
 "One day while playing with the wheelchair cricketers before the IWPL tournament, a miracle happened. I felt normal. It was a pleasant shock for my family."
Ghazal decided to work for the disabled cricketers. "This was the moment when I realized why Allah saved me. From that day till now I have given all my time and energy to Divyangjan's cricket.
Ghazal is also Vice President of the International Council for Wheelchair Cricket (ICWC) and is secretary, International Affairs in the International Council for the Physically Challenged Cricket (ICPCC).
Almost four years ago she launched the Divyang Premier League DPL T-20.
Ghazal says she aims to elevate disabled cricketers to the status of others. Due to her efforts, on the lines of IPL, the Divyang Premier League IPL was played between 6 teams in 2021 at the Sharjah International Cricket Stadium in Dubai.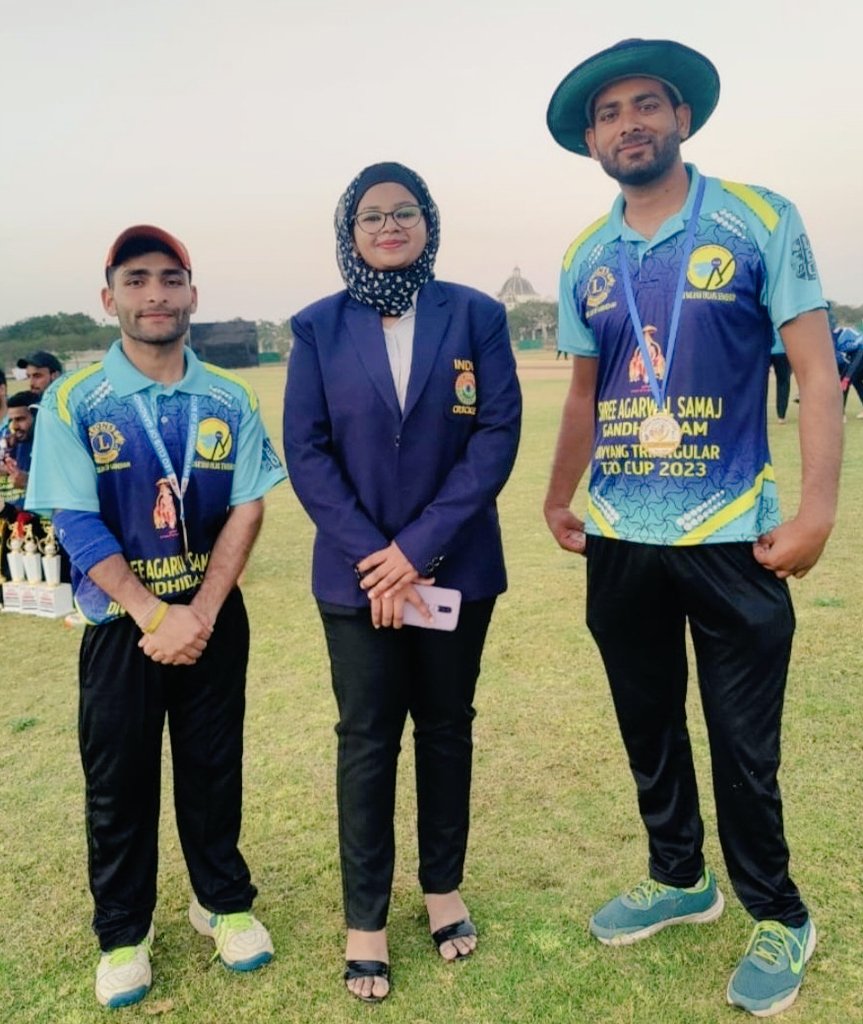 Ghazal Khan with players

She gives the credit for her success to her father.
Ghazal Khan said she is also influenced by Prime Minister Narendra Modi. She was impressed by Modi's remarks in o address 'Mann Ki Baat' on December 27, 2015, which said that physically challenged people have a divine ability and for this, they should be called Divyangjan and not disabled.
Ghazal Khan recently received the Global Excellence Award from the Samarth Seva Sansthan of Rajasthan. Last year she received the Icons of Asia Award.
Ghazal Khan told Awaz-The Voice that she is also planning to work for women's disability cricket, improving the commentary of the game and setting up a sports business industry.
Source: Awaz The Voice